Deliver instant, effective communications
through Email Marketing…
Instant Email Marketing motivates customer visits via special offers, invitations to events and birthday and welcome messages. It is one of the least expensive marketing channels.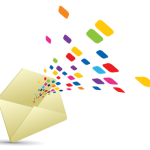 Your Benefits
E-mail marketing is as one of the most effective and low cost marketing tactics.
The delivery time for an e-mail message is short (i.e., seconds or minutes) compared to a mailed advertisement (i.e., one or more days).
E-mail messages are easy to track. We can measure how many customers opened the email and visited a linked web site.
You can generate repeat business affordably and automatically.
Over half of internet users check or send e-mail on a typical day.
Why it works
Email marketing can positively reinforce your business and allow you to test new creative marketing strategies.
Allows you to target and build better relationships with all your customers.
Would you like to know more?
Contact a friendly Marketing Consultant today on 1300 765 656